Deliciously hearty yet simple, this healthy baked oatmeal recipe with blueberries and strawberries is made with rolled oats and natural sweeteners that are sure to become a breakfast favorite. It's packed with nutritious ingredients like mixed berries, bananas, and almond milk and makes an easy-to-customize meal prep dish. It's a Whole Lotta Yum!
✅ Get our FREE healthy meal prep printables + meal plan! 🥑
Jump to:
Baked Oatmeal With Blueberries
Not only is our healthy baked oatmeal with fresh berries delicious, but it comes together fast in just one bowl! We love to make berry baked oatmeal for meal prep since it's easy to freeze into individual portions and reheat later in the microwave!
Already packed with healthy fats, protein, fiber, vitamins & minerals, it's easy to customize to your personal liking!
Baked oatmeal recipes will always be a perfect breakfast meal prep option. If you're a fan of baked oatmeal, our peanut butter banana baked oatmeal cups are an easy and quick way to take your baked oatmeal recipes on the go!
Why You'll Love This!
A great recipe for meal prep or a make-ahead breakfast. We like to cut it into 9 squares, wrap each square with plastic wrap, and freeze them individually. Microwave to heat!
Our recipe is mildly sweet with intention since it is great to drizzle with maple syrup at serving too without making it overly sweet.
Loaded with flavor, and easily customizable to your preferences.
🍓 Berry Baked Oatmeal Ingredients
This absolutely delicious recipe calls for a handful of healthy breakfast essentials. We made ours dairy free but you don't have to! Likewise, it's easy to make vegan if you aren't eating eggs.
Old-fashioned rolled oats - In a pinch quick cook oats can be used in place of old-fashioned oats. I wouldn't recommend using steel-cut oats.
Almond milk - Any kind of milk will work whether it's dairy or dairy free. Other good choices are unsweetened oat milk, soy milk, or coconut milk. Try unsweetened vanilla almond milk for a touch of added vanilla flavor.
Large eggs - To make this egg-free, you can use chia seed eggs or a flax egg, or swap it with ¼ cup mashed banana or ¼ cup unsweetened applesauce.
Mashed bananas - Dark brown bananas will yield the sweetest banana flavor. If you're planning ahead, toss your bananas in the fridge to brown overnight.
Pure maple syrup - Honey, coconut sugar, or golden erythritol can be used instead.
Melted coconut oil - Melted butter, avocado oil, olive oil, or plant-based butter will also work.
Ground cinnamon - Cinnamon brings a lovely spice to oatmeal. Try other dessert spices like pumpkin pie spice or apple pie spice.
Baking powder - To substitute 1 teaspoon of baking powder, combine together ¼ teaspoon of baking soda and ½ teaspoon of cream of tartar.
Vanilla extract - Pure vanilla extract will yield the best vanilla flavor.
Salt - Salt helps to balance out the sweetness in sweet dishes. Don't skip it!
Mixed fresh berries - Fresh blueberries and sliced strawberries are great choices. Frozen blueberries or frozen mixed berries will work as well, remember not to thaw them beforehand as the colors will leech into the batter.
Optional topping - Sliced almonds, coconut flakes, or toasted pumpkin seeds
Please see the recipe card at the bottom of the post for the exact quantities
Variations
If you're known to eat oatmeal every day, try different variations of this healthy breakfast to switch it up.
Other mix-ins or topping ideas are chopped pecans, dried cranberries, raisins, chocolate chips, and other types of fruit such as raspberries, cherries, peaches, apples, and pears.
Top with a drizzle of peanut butter, pure maple syrup, and sliced bananas.
Add more protein - add vanilla Greek yogurt or protein powder for an extra protein boost.
Equipment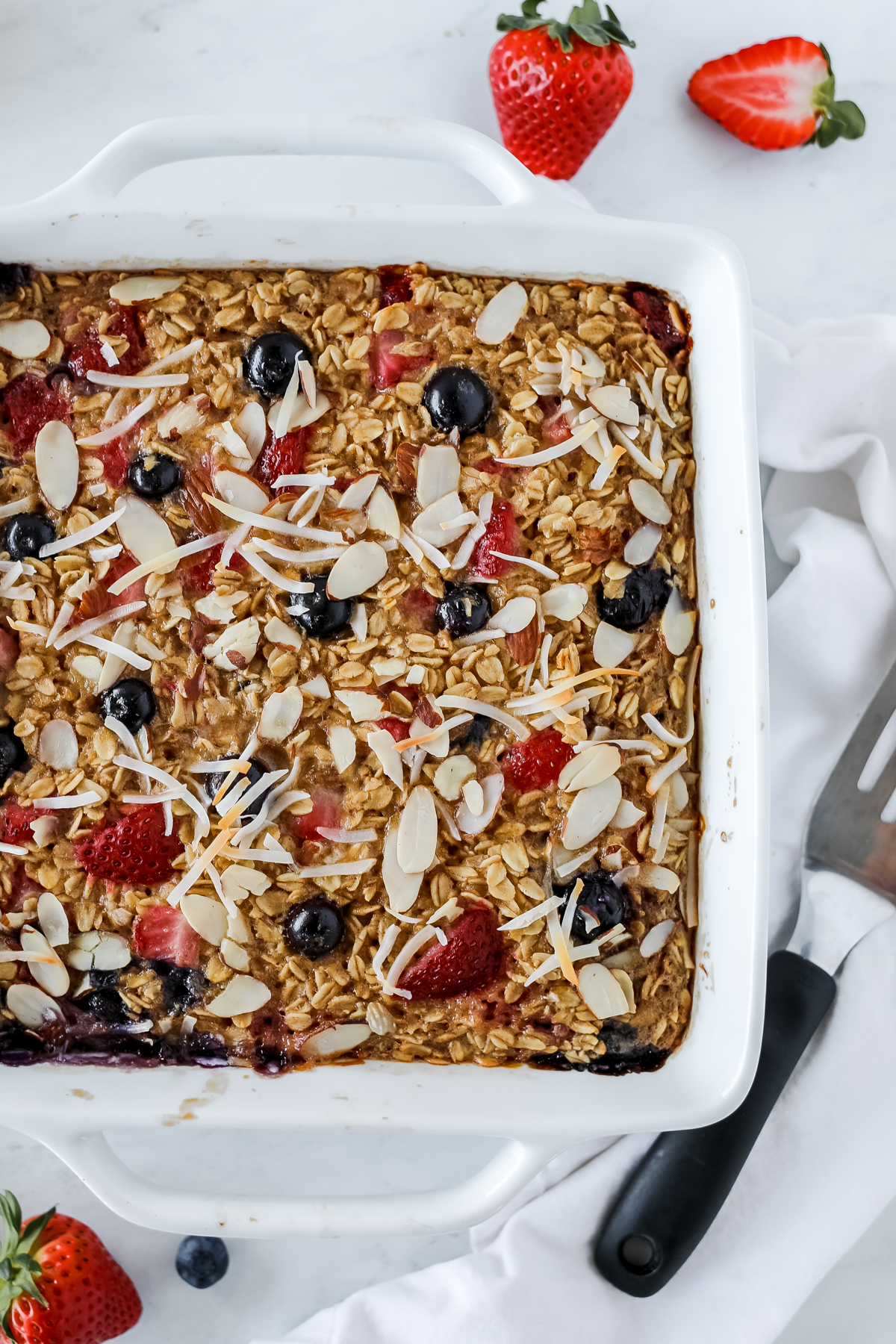 🥣 How to Make This Baked Oatmeal Recipe
Our berry baked oatmeal comes together as easily as mixing all of the ingredients in one bowl, pouring it into muffin tins, and then adding optional toppings before baking. Easy peasy!
Preheat your oven to 350 F. Spray a 9x9 inch baking dish or 7 x 11 casserole dish with non-stick cooking spray.
Prep Ingredients
In a large bowl, whisk the old-fashioned oats, almond milk, eggs, maple syrup, coconut oil, cinnamon, baking powder, vanilla extract, salt, and berries.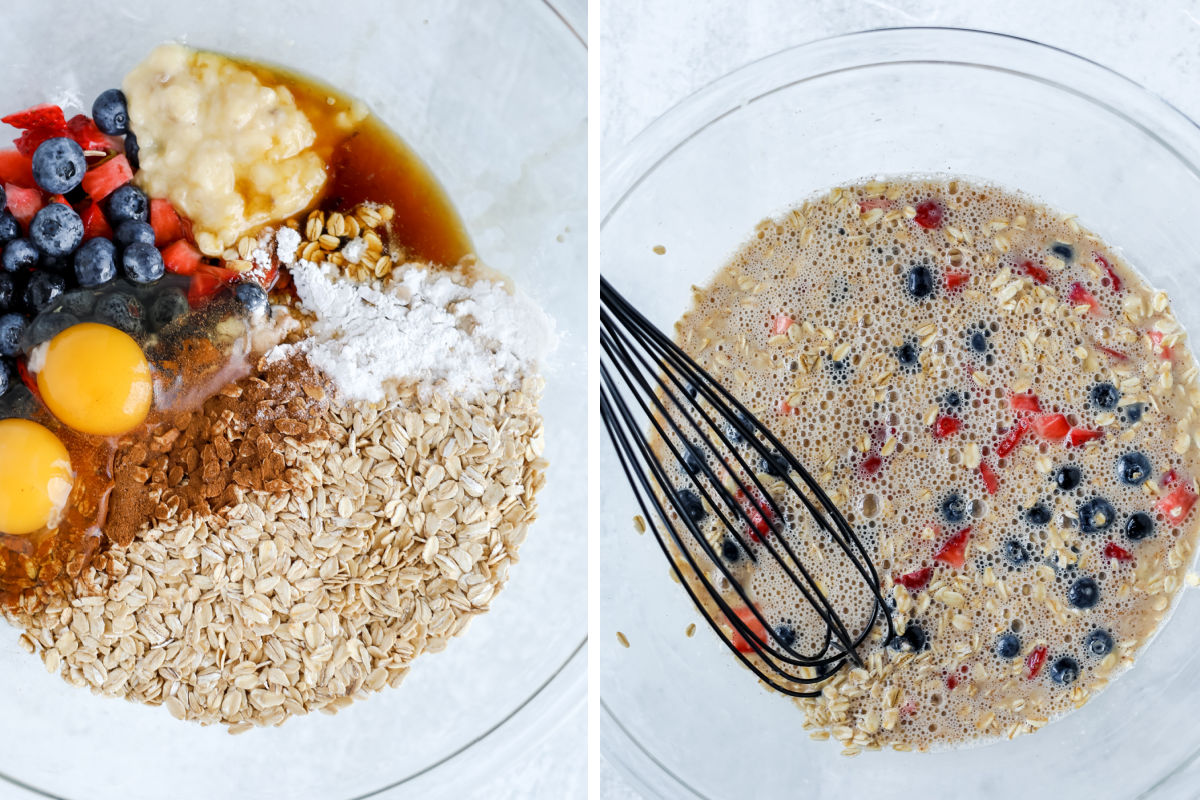 Assemble
Pour the batter into the prepared baking pan. If desired, sprinkle sliced nuts like almonds and/or unsweetened coconut flakes over the baked oatmeal mixture.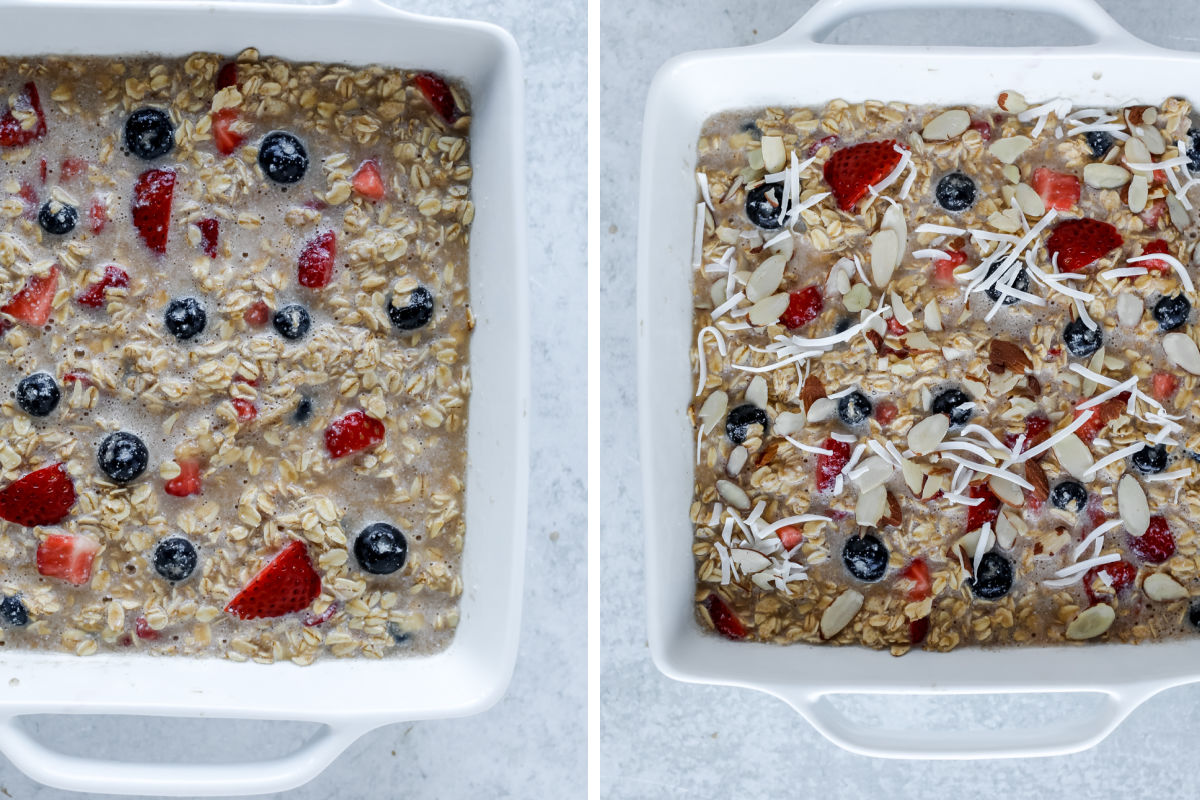 Bake
The oatmeal bakes for 35-40 minutes until the oats are just set in the center and golden brown. About 35 minutes should give you softer set oats and 40-45 minutes will make firmer and more solid oats.
Cool for 5-10 minutes before cutting into them and serving. Drizzle more maple syrup if desired. Will last for up to 5 days in the fridge. Enjoy!
🥚 Dietary Substitutions
As written berry baked oatmeal is: Dairy-free and (basically) gluten-free.
Vegan: Use chia seeds to make a seed egg in place of the large eggs.
Gluten-free: Be sure to use gluten-free certified rolled oats since most store-bought varieties contain traces of gluten if you have a gluten allergy. Rolled oats themselves don't have gluten, it's the manufacturing plants that do.
💡 Healthy Baked Oatmeal Recipe Tips
Do not make the mix in advance, the oats will absorb the liquid. It's important to whisk the ingredients together and bake them immediately.
Perfect as a meal prep breakfast! Cut the oats into 9 pieces, wrap them up individually in plastic wrap, and then store them all together in a larger bag. They last in the freezer for up to 3 months. Defrost by pulling them out the night before or unwrap them and microwave until heated through.
Frozen fruit can be used instead of fresh fruit, do not defrost before adding them or your batter will turn red or purple!
It's easy to use just one kind of fruit too if your preference is something like baked oatmeal with blueberries (and no strawberries).
❓ FAQ's
How long do healthy baked oats keep?
Store baked oatmeal with blueberries as individual slices in an airtight container. Cut the oats into 9 pieces, wrap them up individually in plastic wrap, and then store them all together in a larger bag. They'll last in the freezer for up to 3 months. Defrost by pulling them out the night before or unwrap them and microwave until heated through.
Can I Make oatmeal bake in advance or overnight?
We do not recommend assembling the entire oatmeal bake in advance since the oats will absorb the liquid. But you can of course prep the dry ingredients and just whisk in the liquid ingredients in the morning right before baking.
How to reheat Healthy Baked Oats
To reheat the whole dish if you've made this recipe in advance, cover the dish with foil and bake at 350 degrees Fahrenheit for roughly 20 minutes or until heated through. Reheat individual slices in the microwave, covered with a damp towel for 1 minute. Or bake in a toaster oven for 8-10 minutes.
😋 More Rolled Oats Recipes
If you're looking for more oatmeal meal prep recipes, check out some of our recent posts:
💌 Get Meal Prep Help!
Be sure to join our healthy recipes email list to get lots of meal prep ideas, plus free meal planning printables. We're here to make meal time simple!
If you loved our recipe, please leave us a ⭐⭐⭐⭐⭐ review and leave us a comment too! Connect with us on Pinterest, Facebook, Instagram, TikTok, or YouTube!
📌 Pin for Later
📌 Be sure to pin the recipe to Pinterest so you can easily find it again! ⬆️